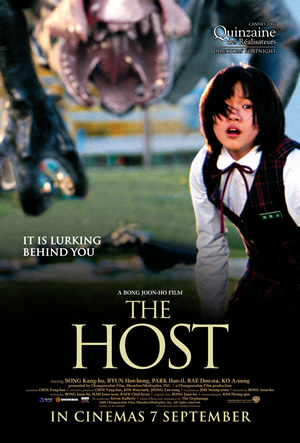 "THE HOST"
AFTER VIEWING THIS FILM MY FIRST THOUGHT WAS THAT IT COULD HAVE LOST ABOUT 45 MINUTES. I FEEL IT NEEDS A NEW EDIT. THE FILM IS GREAT OTHERWISE. I MEAN THERE ARE SOME SHOTS AND SCENES THAT MAKE FOR GREAT FILM VIEWING. I WOULD LIKE TO BUY THIS WHEN IT COMES OUT ON DVD. I JUST WATCHED "SHIRI" ANOTHER KOREAN FILM. IT ALSO HAD SOME PACE ISSUES BUT I THINK AFTER WATCHING BOTH OF THEM FOR A SECOND TIME YOU WILL LOVE THEM MORE AND MORE. (kinda like "KUNG FU HUSTLE")
"DISTURBIA"
CAN I RATE A MOVIE IF I TOOK A 30 MINUTE NAP WHILE WATCHING IT? I THINK THE FILM WAS GOOD FOR WHAT IT WAS. IT WAS A STORY WHERE YOU KNOW WHATS GOING TO HAPPEN BUT THE CHARACTER'S PERSONALITIES ARE THE HIGHLIGHT OF THE FILM. I CAN'T IMAGINE THE BOREDOM CAUSED ACTIVITIES I WOULD GET INVOLVED IN IF I WERE UNDER HOUSE ARREST.
"THE AQUA TEEN MOVIE"
THIS WAS NOT WORTH MY MONEY. I EVEN PAID FOR A FRIEND TOO. THE BEST PART WAS THE FRUIT PUNCH I BOUGHT. LOL ACTUALLY THE BEST PART OF THE MOVIE IS THE ROCK BAND. I FIGURED THIS MOVIE WOULD EITHER BE A REALLY LONG BAD EPISODE OF THE SHOW OR A REALLY LONG GOOD EPISODE OF THE SHOW. SIGH
"BLADES OF GLORY"
NOT BAD NOT GREAT. NOT VERY FUNNY NOT VERY GAY. THAT'S ALL I HAVE TO SAY.
I WOULD SAY GO SEE "THE HOST" AS SOON AS YOU CAN.
IF YOU WANT TO SEE "DISTURBIA" BUT YOU ARE UNCERTAIN IF IT WILL BE GOOD OR NOT, GO SEE IT B/C YOU WON'T FEEL BAD AFTER.
IF YOU LOVE "AQUA TEEN" YOU CAN GO SEE THE MOVIE JUST TO FIND OUT FOR YOURSELF. IF YOU DON'T LOVE IT DO NOT DO NOT DO NOT GO SEE THIS FILM.
MAKE "BLADES OF GLORY" THAT MOVIE YOU SNEAK INTO AFTER YOU WATCH ANOTHER FILM YOU REALLY WANT TO SEE.